Top Hammer Shank Adapters
1. We provide Top hammer shank adapters for various applications, including underground mining and tunneling, surface mining and quarrying, construction drilling and blasting.
2. According to different rock drills, more than 300 different top hammer shank adapters can be produced.
3. The anti-fatigue performance, anti-fatigue strength, and other properties of the strike bar fully meet the standards
4. We have a high-quality workforce, exquisite heat treatment process, manufacturing tolerance control, and strict quality control.
Introduction of Top hammer shank adapters:
We manufacture quality shank adapters for most brands of rock drills.when it comes to the entire drill string, every component plays a vital role. However, the design of the shank adapter is especially important as it needs to handle immense impact and twisting forces. Its main purpose is to efficiently transfer the energy from the rock drill piston to the drill string, without any loss. But what sets our shank adapters apart is their outstanding durability and reliability. You can rely on them to last and perform exceptionally well.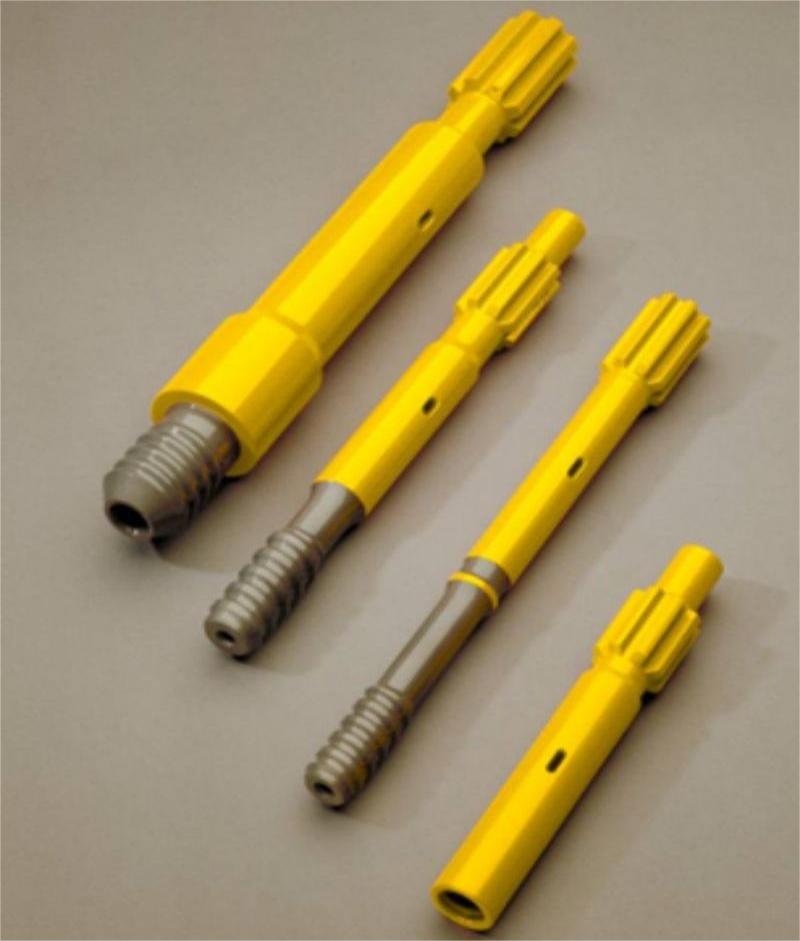 Specifications of Top Hammer Shank Adapters:
Serial number
Specification
application
Remark
1
Atlas Copco
Applicable to Shank adapters of various brands of rock drills
Accept customized special model shank tail
2
Boart
3
Furukawa
4
Gardner-Denver
5
Ingersoll-Rand
6
Montabert
7
SIG
8
Sandvik
9
EPIROC
10
Others

Features of Top hammer shank adapters:
1. Top hammer shank adapters can change the way the top hammer is held, making it more ergonomic and providing a more comfortable holding experience. This reduces hand fatigue during prolonged use of the tophammer.
2. Top hammer shank adapters can provide better handle control and stability, thereby increasing the precision and efficiency of work. This is especially important for jobs that require fine work or where the tophammer is held for extended periods of time.
3. Using Top hammer shank adapters can reduce the risk of hand injury. It provides a more stable hold, reducing injuries from accidental slips or loss of control.
5. Top hammer shank adapters are usually smaller and lighter than traditional top hammers, making them easier to carry and store.


About us :
We are dedicated to rock drilling rigs and rigs, rock excavation and construction equipment and auxiliary materials for surface and underground operations, and can provide high-quality products and after-sales services. We can provide you with various types of OEM spare parts, with the purpose of improving production Ability to reduce usage costs.
Based on the advantages of rock drills, we can provide customers with upgrading and transformation services, and provide perfect solutions for customers' production needs.

Get the latest price? We'll respond as soon as possible(within 12 hours)